Pull Request Flow with usethis
By Garrick Aden-Buie in Blog
October 7, 2021
Posted on:

October 7, 2021

Length:

24 minute read, 5090 words

Categories:

Tags: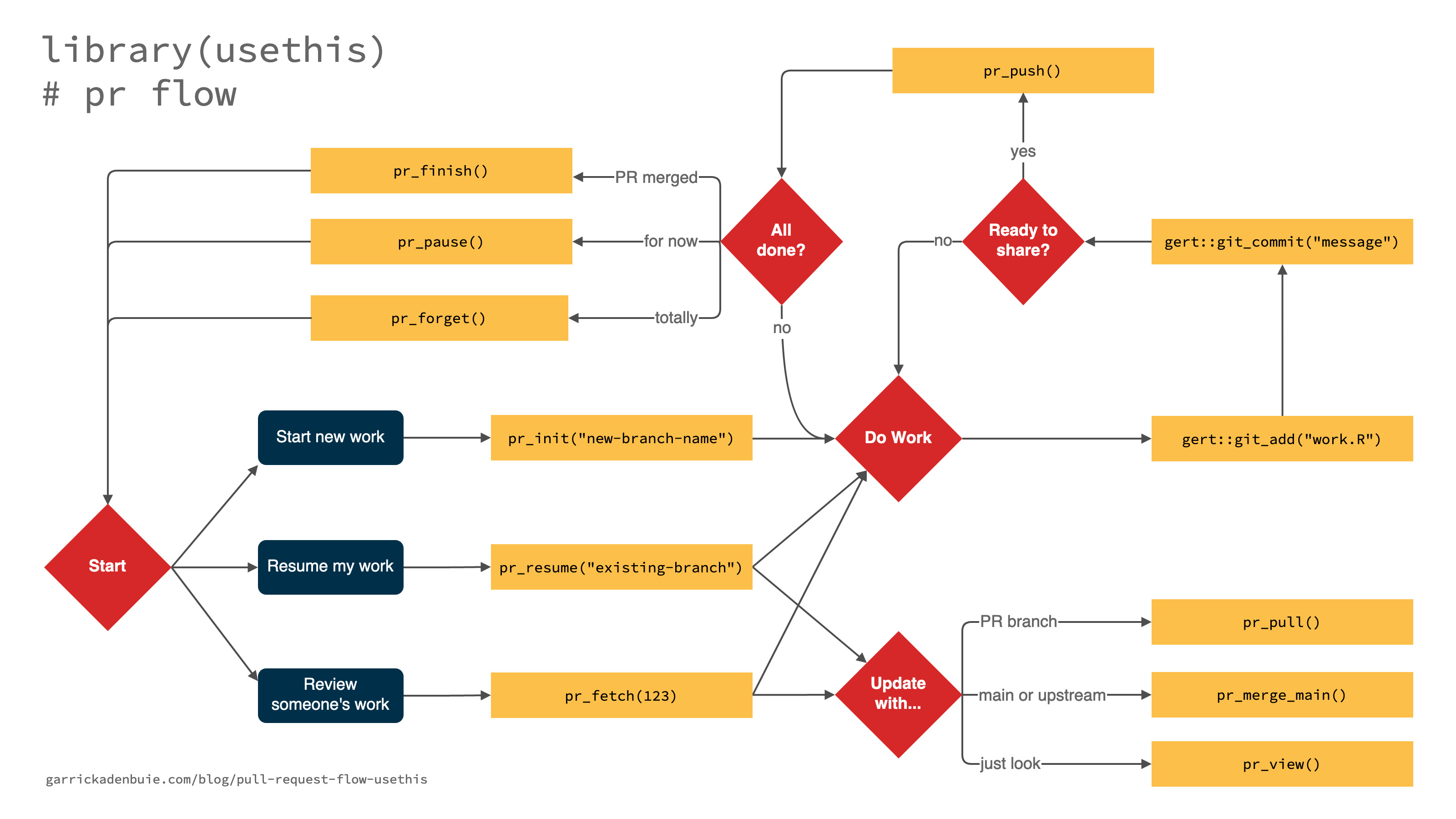 Introduction
The usethis package is full of incredibly helpful functions that make life as an R developer easier. A lot of the package's functions target R package maintainers, but there's a small cluster of functions that are life changing for anyone who uses git or collaborates with others via GitHub1.
These pull request helpers all start with the pr_ prefix, but I initially found them a little confusing to use since they're each designed to be called in a specific context — for example, when you have local work that isn't associated with a PR or when a PR exists but you don't have the work locally on your computer.
Once I wrapped my head around the functions, though, using them has utterly transformed my day-to-day workflow. I can move in and out of collaborative work seamlessly. The flow chart above is my personal mental model of this cluster of functions and I hope it helps you make sense of them, too.
There are other great resources available in the usethis documentation. Beyond the function documentation, there's also the great Pull request helpers article. That article walks through a pull request from the perspective of a contributor and a package maintainer.
In this blog post, however, you get to play both roles and choose your own adventure!
Choose your own pull request adventure
Welcome to this choose-your-own-adventure blog post. You don't need to read this one from top to bottom. Instead, jumping around is encouraged!
Look for the Decision time: icon. It tells you that it's time for you make a choice. But don't worry, there's no wrong choice: if you take a wrong turn you can always use your browser's back button to retrace your steps.
Decision time: Ready to get started?
Prep work
Update your local copy
Work
Wrap Up
Download the usethis pr_*() flow chart
Pull Request Flow with usethis
by
Garrick Aden-Buie
is licensed under a
Creative Commons Attribution 4.0 International License
.
---
I primarily use GitHub, but I think these functions will generally work for other code-hosting platforms as well, like GitLab or others.↩︎